At La Spa, the desire for improvement comes not only from the management, but also from every single member of the team. As such, a number of fun creative contests have been held to encourage staff contribution and ingenuity. In 2018, one of the most impressive was the La Spa Tea contest.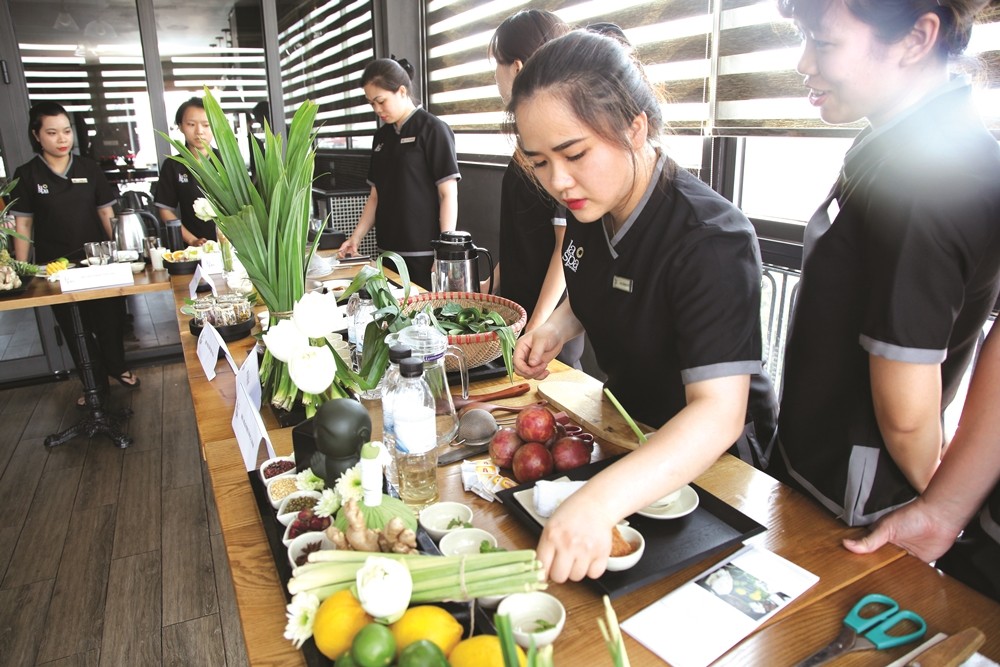 The competition started on 3 July 2018 and immediately received a great response from the staff. Everyone was productive and active really taking time to create a unique tea – from researching ingredients to creating the right recipe. The end goal was to get their tea included on the official La Spa tea menu. A total of 33 tea recipes were entered from Hanoi and Hoi An.
The two-part final round was held in Hanoi on 12 July 2018 with seven shortlisted teas, and in Hoi An on 14 July 2018 eight teas had made it through. The final results were announced on 20 July, with the winning two teas as follows:
First place: White Crane Tea created by Nguyen Thu Nga
Ms. Nguyen Thu Nga, Assistant to the Director, has a special interest in teas and is particularly concerned about those with diabetes who need to be careful when it comes to sugar levels.
Inspired by Hue Royal Tea, Ms. Nga came up with a combination of chrysanthemum, part lotus seeds, licorice, red apples and artichoke. White Crane Tea has a naturally sweet taste and carries a wonderful aroma as well as bringing some health benefits. After winning the first prize, she renamed her tea Autumn – representing one of the four seasons on the La Spa tea menu.
Second place: Vietnamese Rice Drink by Bui Thu Huyen
Mrs. Bui Thu Huyen, a Therapist from La Spa Nguyen Quang Bich, devised this tea which was then renamed Spring. Before becoming a therapist, Mrs Huyen (who embodies the traditional Vietnamese woman devoting herself to her family and the home) worked for a long time at a well-known restaurant in Hanoi. This was invaluable experience when it came to creating her tea. It is made from Vietnamese rice and pandan leaves, the combination of which surprises many customers. Spring tea is now a firm favorite on the La Spa tea menu.
Two of La Spa's four season teas have been invented by our La Spa staff, taking first and second place in the 2018 tea competition.
Choose your favorite season and enjoy one of our four delicious and meaningful teas. Which season are you going with?